Laborafix 40

Is 100 % Polyester thread produced from polyester staple fibres. Low shrinkage, very good strength and excellent resistance to heat and chemical provide a versatile thread.
Applications:
• Men's-Ladies and children's wear
• Work clothing
• Home textiles
• Non-apparel applications
• Self edge thread
Kevlar ®
Sewing thread made of Kevlar® will neither burn nor melt and is extraordinary strong. Its strength being 2 to 3 times higher than the strength of HT PES und PA. DoPointTM Kevlar® has a good resistance to most organic solvents to mildew.

Application:
• Cryogenics
• Armor
• Personal protection
• Sports equipment
• Electricity generation
• Building construction
• Rope, cable, sheath
Flexitex

Textured Polyester Thread for overloking - of fabrics.
Textured thread have been falsetwist textured to entangle the parallel continuous filament. Flexitex has excellent covering properties and is especially suitable for overloking or as a seam cover looper thread. Flexitex has good resistance to chemical degradation. Blends in with many shades.
Available in following thickness:
Flexitex 200 / Flexitex 100 / Flexitex 40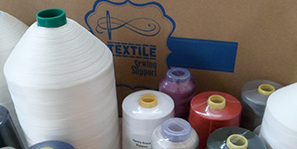 Flexistrong
Produced with High Tensile Strength for Superior Sewing Capabilities.
100 % POLYESTER CONTINUOUS FILAMENT SEWING THREAD.
The lubrication consists of mixtures of synthetic wax and silicone appearance and give, in the case of decorative thread, a particulary good visual effect. Flexistiong have very good sewability, excellent abrasion resistance and a very good seam strength.
Perfect Trehad for a variety of Applications such as Quilting, Mattresses, Shoes, Leather products and different Outdoors products like Camping or Tents.
Application:
• LADIES' SHOES, LEATHER GOODS, SEAT COVERS
• Mattresses
• Quilts
• LADIES' AND MEN'S SHOES, HEAVY BOOTS
• ropes of parachutes
• protective shoes, boots, flexible containers, lifting slings.
• Leaderwear, briefcases, car seats, upholstery, protective clothing

Available thickness:
120 / 80 / 60 / 40 / 20 -In 45 colors
Flexispun
Flexispun is universal spun polyester sewing thread.
Which was special developed for working on automatically sewing machi¬ne.
Application:
• SHIRT, BLOUSE, UNDERWEAR
• CANVAS, JEANS, FURNITURE
• Mattresses
• BAG CLOSING COAT
• PANTS, UMBRELLA
• SUITCASE, JEANS, BEDDING

Available in following thickness: 80 / 50
Flexifil
is universal core spun sewing thread. Which was special developed for working on automatically quilting/sewing machine
Flexifil of various sizes can be used for sewing of almost anything from delicate blouses to heavy clothes. They are recommended for all automatic sewing machines.
Application:
• JEANS, LEATHER, SHOES, LUGGAGE
• SHOES, FURNITURE, HANDBAG
• Mattresses
• Quilts
• SHIRT, SUIT, RAINSWEAR
• SHIRT, BLOUSE, LINGERIE

Available in following thickness: 150 / 120 / 100 / 80